Miramar
Motorcycle Accident Attorney
Miramar, Florida, is a beautiful place with ideal weather to travel by motorcycle. However, even in the best conditions, safety is always a big concern for those who enjoy spending time on two wheels. Unfortunately, an accident can result from poor road conditions or the actions of a negligent driver.
If you are recovering from a motorcycle accident in Miramar, you may be able to recover damages for your medical expenses, lost earnings, and pain and suffering. If someone else's carelessness or recklessness caused your hardship, they should pay your expenses, not you. A Miramar motorcycle accident lawyer with Phillips | Tadros, P.A., can review your accident, possible compensation, and legal options with you today during a free consultation.
How Our Lawyer Help With a Miramar Motorcycle Accident
The road to financial and physical recovery after a motor vehicle accident can be long and daunting. For many people, it makes sense to hand the stress and burden of dealing with insurance companies and other negligent drivers to a legal professional. If you have suffered an injury, you only want to heal and get back to your life. Getting you back to square one is how our accident lawyer can help you.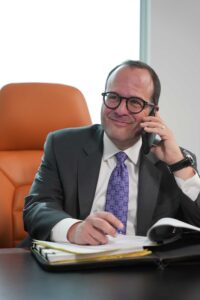 We will investigate the accident and gather evidence that can help us build a case against the liable parties. We can review the official police report, interview witnesses, and request footage from nearby traffic or surveillance cameras that can help us determine what happened. We can also seek the professional opinion of an accident reconstructionist or independent medical provider to establish your case for damages.
We Will Take Care of Your Case as You Recover from the Crash
If you retain us as your counsel, we will manage your case from beginning to end. You get your time back to concentrate on healing from the accident while we pursue recovery for you.
Our job is to take the stress off you, professionally negotiate the best compensation for you, and protect your rights and interests during the insurance claims or lawsuit process. Many times, a lawyer can recover compensation for their client without a court trial. Hiring a lawyer is a personal decision.
What Is a Miramar Motorcycle Accident Case Worth?
Many factors go into determining what a motorcycle accident case is worth. Accident-related expenses include lost income, hospital bills, property damage, and more. All of these are economic (financial) damages, which we can document with receipts, invoices, pay stubs, and more.
We will also review your non-economic (non-financial) damages, such as pain and suffering, psychological trauma, disability, and other losses that do not have a dollar amount. Our Miramar motorcycle accident lawyer can negotiate a settlement for you that will help your recovery.
Wrongful Death Damages in a Miramar Motorcycle Accident Case
If you lost a loved one in a motorcycle accident that occurred in Miramar, please accept our condolences. We understand this is a sensitive matter, and we want to be there for you and your family. If someone else caused your loved one's accident, we can help you seek a wrongful death action against the liable party. We can explain the process and who is eligible to pursue damages under Florida law during a free consultation.
Recoverable damages under a wrongful death lawsuit include compensation for your loved one's funeral and burial expenses and final medical bills. You could also receive lost income your loved one provided to the household.
Can I Afford a Personal Attorney to Represent Me After a Motorcycle Crash in Miramar?
The cost of legal representation stops many people from hiring an attorney. It's understandable, as injured victims are usually under a great deal of stress and pain and suffering while the bills pile up.
Free Consultation
We offer motorcycle accident victims a free consultation to review your case with you. There is no cost to find out what your case could be worth and how our Miramar motorcycle accident lawyer can help you.
Contingency Fees
Personal injury cases don't require an upfront payment. They are taken on a contingency basis, which means clients do not pay attorney's fees unless they recover compensation. The payment would come from an agreed-upon percentage of the award they receive.
This arrangement can remove concerns over cost. The only concern you or your loved one will have is to concentrate on healing. Our lawyer will take care of the rest. From collecting evidence to interviews and negotiations, your attorney will work to get you the most compensation available for your case.
Florida Motorcycle Crash Statistics
If you are riding a motorcycle in Florida, you may know that the state experiences high numbers of motorcycle accidents. Broward County has many accidents each year that occurs on its roads.
The Florida Department of Highway Safety and Motor Vehicles (FLHSMV) reports that in 2021, more than 8,600 motorcycle crashes occurred in the state, and nearly 590 people died in those accidents. In Broward County, there were 702 crashes and 38 fatalities in 2021.
Being aware of some of the motorcycle statistics can help riders stay safe while riding in Miramar. Motorcycle accidents commonly happen when motorists make unsafe lane changes or left turns, both of which can cause an accident. We can determine who and what caused your accident and make a case for your compensation.
Choosing a Motorcycle Accident Lawyer for Your Miramar Case
When you decide to look for a motorcycle accident lawyer, is there something you look for more than a diploma on the wall? Experience with motorcycles comes to mind. You want to know that the person who represents you actually understands what it is like to ride a motorbike.
You want someone with your back that has been in your shoes. You might like a motorcycle accident lawyer who knows what it's like to have road rash, a common injury in this kind of accident.
Personal Experience with Managing Accident Cases
When you work with Phillips | Tadros, P.A., you will have a team that understands motorcycle riders representing you. Chris Tadros has been a motorcycle rider for many years. He has crashed multiple times. Tadros has experienced crashes on dirt bikes and three times on his street bike. He understands what it means to get hurt on your bike.
Motorcycle Knowledge
Chris Tadros has motorcycle knowledge. He has been on dirt tracks and racetracks on bikes. When you ride fast and take racing seriously, you know your bike inside and out. Tadros will be the first to tell you, "I know what it feels like to hit the ground."
Your Miramar Motorcycle Accident Case Has a Deadline
Time is limited on personal injury cases, so the sooner you start, the faster we can get to work on your case. In Florida, you have four years from the accident date to protect your right to sue for a personal injury, per Florida Statutes § 95.11(3)(a). If you are filing a wrongful death case, you have two years from the decedent's death date, per Florida Statutes § 95.11(4)(d).
If you miss the deadline, you risk losing your right to pursue recovery. We encourage you to file your injury lawsuit as soon as possible.
Find a Motorcycle Accident Attorney in Miramar, Florida
If you are ready to work with a Miramar motorcycle accident lawyer on your case, we are here to help. Call Phillips | Tadros, P.A., at (954) 642-8885 for a free consultation today. We'll help get you to your tomorrow.