Miramar
Personal Injury Attorney
Miramar's growing number of shops, restaurants, apartment complexes, and grocery stores-many of them just east of I-75-means there are more entertainment, residential, and shopping options for the city's residents and visitors. However, this growth also means more opportunities to be injured in an accident, from a slip and fall in a Publix store to a traffic accident along Miramar Parkway.
Some injured people may want to seek legal recovery, especially if their accident caused them to lose income while facing a huge pile of medical bills and other expenses. If you were injured in an accident in Miramar, a Miramar personal injury lawyer from Phillips | Tadros, P.A., can discuss your situation with you and explain your legal options. Reach out to us for a free consultation today.
Our Team Is Ready to Help You Financially Recover From Your Accident
With over 40 years of combined legal experience, the team at Phillips | Tadros, P.A., is ready to get to work for you. We select our cases carefully and put everything we can into them to help our clients hold others accountable for their negligence. Our lawyers have represented everyone, from individual people to small "mom and pop" medical practices to Fortune 500 companies. No matter who the client is, we work to ensure that everyone gets the professional legal care they deserve.
We can serve as your legal advocate in your personal injury case, guiding you through the process of pursuing a claim or lawsuit and determining how much compensation you may be able to recover. Of course, we cannot guarantee results-but we will always be upfront with you about your case and what options you have.
Recoverable Damages in a Miramar Personal Injury Case
Most injured victims want to know if they have a case, and if so, how much they can recover for their losses. Working with a personal injury lawyer can help you understand exactly how much financial recovery you might receive.
First, we look at your financial and non-financial losses, as well as how severe your injuries are and how long your expected recovery time will be. We also look at how your injuries will affect your life in the long run.
You will likely have damages that have a fixed dollar amount (economic) and ones that do not (non-economic). Economic damages may include:
Current and future medical expenses (such as emergency care and ongoing treatment)
Lost wages, benefits, bonuses, and tips
Reduced or lost earning capacity (especially if your injuries prevent you from going back to the same job you had before the accident, or going back to work at all)
Property damage
Other injury-related expenses
Non-Economic Damages
We also consider how damages with no fixed dollar amount have affected your overall health and well-being since the accident. You may be familiar with the term "pain and suffering," the widely known loss that falls into this category. However, there are other non-economic damages that injured parties can recover, such as:
Mental anguish
Emotional distress
Loss of companionship
Disability, scarring, or disfigurement
Loss of enjoyment of life
There may be other damages that apply in your case. Having a Miramar personal injury attorney on your side helps ensure that you pursue all possible opportunities for recovery.
You May Be Able to Recover Wrongful Death Damages
Unfortunately, some families lose a loved one unexpectedly in personal injury cases. This loss can be devastating, leaving relatives unsure how to recover from their family member's death, especially if the deceased person contributed to the household's expenses.
We offer our sincere condolences for anyone in this situation. If someone else's negligence caused your loved one's death, our team can help you file a wrongful death lawsuit to recover expenses like:
Medical bills
Funeral, burial, and cremation services
Loss of the decedent's financial contribution
Other end-of-life expenses
Florida law designates the family members who can pursue this action and governs the process. We can review these laws with you during a free consultation.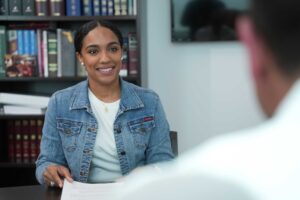 How We Manage Personal Injury Cases in Miramar, FL
Hiring legal representation allows you to use this otherwise stressful time to take care of yourself and your family and attend to other matters. If you hire us, our team will manage your case from start to finish.
We can do the following tasks and more, ensuring that you receive the professional legal care you deserve:
Meet with you privately to learn more about your accident and injuries
Collect evidence that proves your case (e.g., medical records, accident scene photos, video footage, and witness testimony)
Assess your damages and assign a financial value for compensation
Identify the liable party or parties
Prove that the liable party's negligence caused your accident and injuries
Handle all communications on your behalf, including alerting all parties that you are filing an insurance claim or lawsuit
Negotiate with insurance companies for a favorable settlement
File a lawsuit if we cannot reach a settlement with the insurer
Fight for your recovery at trial
Negotiating with the insurer is a big part of injury cases, but it is also the part that most people dread-our team is here to do it for you. We are also here to explain the laws that apply to your case and answer your questions and concerns. You will receive prompt case updates from us, so you always know where your case stands.
Florida Personal Injury Cases Have a State-Imposed Deadline
Once you have learned more about your options, you must decide at some point what to do next, and you have a limited time to do it. Deadlines can also change, depending on the kind of lawsuit being filed. Generally, parties must file their compensation lawsuit within two years of the accident date, per Florida Statutes § 95.11(3)(a). If you are filing a wrongful death case, you have just two years, per Florida Statutes § 95.11(4)(d).
You also generally have two years to file a medical malpractice lawsuit or a nursing home abuse lawsuit (Florida Statutes § 400.0236). We can tell you if any exceptions apply to your case or if you have a longer or shorter time to take action.
It takes time to build a strong case, so we urge you to start as soon as you can. If you miss any deadlines, you will likely lose your chance to sue for damages.
Personal Injury Cases We Handle in Miramar
We handle various types of personal injury cases, including:
Boat accidents
Pedestrian accidents
Medical malpractice
Defective products (also known as product liability)
Construction accidents
Dog bites and animal attacks
This is not a complete list, so please reach out to us if your type of case is not listed here. Our team will review your case and let you know how we can help.