Sunrise
Personal Injury Attorney
If you suffered injuries because someone else acted negligently and caused an accident, you may have options for compensation. A Sunrise personal injury lawyer at Phillips | Tadros, P.A., can support you throughout the claims process and protect your rights.
Call our office at (954) 642-8885 to learn more in a free consultation.
Common Types of Personal Injury Cases in Sunrise
Personal injury claims often include the negligent actions of another. So, for your case to qualify, someone else must have made a decision that caused you to suffer a significant injury. To prove their carelessness, you must apply your situation to the standard of negligence:
They owed you a legal duty of care.
They breached this duty of care.
This breach led to an accident and your injuries.
You have to deal with monetary and non-monetary damages.
Common types of accidents that constitute personal injury claims include:
Pedestrian accidents
Construction accidents
Dog bites
Medical malpractice
Defective products
Nursing home abuse
No matter what accident caused your injuries, if someone else is or could be at fault, you may have the right to financial compensation. To find out how to recover compensation for your damages, consider reaching out to our firm to discuss the specific details of your case.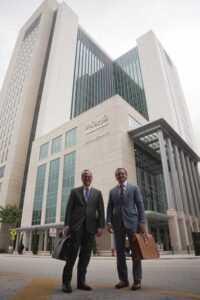 What to Expect From the Personal Injury Claims Process
The personal injury claims process can be daunting. Fortunately, when you have a legal advocate from Phillips | Tadros, P.A., on your side, you can feel empowered to hold the liable party accountable. As you prepare for what's to come, it is important to remember that every person's claim is different.
While one injury victim can recover compensation through an insurance settlement alone, others may need to bring their case to court. However, here is a general idea of what you can expect from the personal injury claims process when you involve a lawyer from our team:
Your attorney conducts an investigation into how your injuries occurred.
They gather evidence, such as the incident or police report, photos, witness statements, and medical records to prove liability in your case.
They go over all of your damages to calculate the value of your claim.
They file a claim with the insurance company, and negotiations commence.
If your insurance settlement is not enough to meet your needs, your attorney brings your case to trial.
At trial, your lawyer will introduce evidence before a jury and seek maximum compensation for your damages.
Our team understands the financial stress you may face right now. To help alleviate some of it, we will serve you on a contingency-fee basis. Under this fee structure, you will not pay us anything up front or out of pocket. Instead, your attorney will take their fee if and when they recover a financial award for you.
You Must Follow the Statute of Limitations to Recover Damages
Every state imposes a statute of limitations on personal injury cases. According to Florida Statutes § 95.11(3)(a), Florida sets a two-year deadline to file most personal injury lawsuits. If you're filing a wrongful death lawsuit, the state reduces this time frame to two years, per Florida Statues § 95.11(4)(d).
If you do not file before the statute of limitations runs out, you no longer have the right to recover damages. However, if you get one of our Sunrise attorneys involved in your case soon enough, they can help you comply with the deadline.
Common Recoverable Damages in Sunrise Personal Injury Cases
You have the right to be made hole when someone else is at fault for your injuries. This means you can seek compensation for your financial, emotional, and physical damages. However, to calculate the value of your claim, your lawyer will first need to separate your losses into categories known as economic damages and non-economic damages.
Economic Damages
Economic damages are financial. They describe all of your monetary losses, and you prove them using bank statements, receipts, bills, quotes, and more. Some common types of economic damages in Sunrise personal injury claims include:
Current and future medical care
Costs of medical equipment
Loss of income
Loss of potential earnings
Costs of increased insurance premiums
Costs of property damages
Household upkeep and maintenance expenses
Childcare fees
Other financial losses
If your loved one passed away from their injuries, you could recover economic wrongful death damages for their funeral, burial, and medical treatment costs.
Non-Economic Damages
Non-economic damages describe the ways your injuries have affected your life physically and emotionally. However, for you to obtain compensation for your losses, your attorney will need to quantify them accordingly.
Some common types of non-economic damages in Sunrise personal injury claims include:
Pain and suffering
Mental anguish and emotional stress
Disfigurement and disability
Loss of consortium
Diminished quality of life
Inconvenience
Damage to your reputation
Your attorney will be able to give you a better idea of how much your personal injury claim is worth after having reviewed your damages in great detail. They will protect your right to recover fair compensation in dealing with the insurance company. We are also prepared to bring your case to court if that's what it takes to get you the most out of your claim.
Start Working with a Personal Injury Lawyer at Our Firm in Sunrise Today
When you are dealing with the trauma of your injuries, having a Sunrise personal injury lawyer on our team can make all the difference in your experience during the pursuit of compensation. Reach out to Phillips | Tadros, P.A., for a no-cost, risk-free case review today at (954) 642-8885.