Hollywood
Personal Injury Attorney
Personal injuries happen every day, and you have a legal right to take action to hold the legal party responsible for your damages. If you were injured because of someone else's negligence in the Hollywood or South Florida area, you may have medical bills, income loss, property damage, and other challenges to deal with. A Hollywood personal injury lawyer with Phillips | Tadros, P.A., can help you recover financial compensation and rebuild your life.
We work for our personal injury clients on a contingency fee basis with no upfront fees or costs, so you can get the legal help you need now while you heal from your injuries. If we do not win your case, you owe us nothing.
Why Hire a Hollywood Personal Injury Attorney from Our Law Firm?
Phillips | Tadros, P.A., is a civil litigation boutique law firm that helps clients throughout Florida recover from situations where someone else behaved badly, whether on purpose or by accident. We represent clients who want to recover their losses and hold the party who caused their accident or injury accountable. With 40+ years of combined experience, we have successfully recovered millions of dollars for our clients.
We work diligently to ensure the best possible outcome in every case. If our team takes your case, you can be assured that you have a legal advocate looking out for you and your interests. To build your case for a fair recovery, we will:
Review the details of your situation and explain your legal options
Calculate all your damages and assign a dollar amount so you know exactly how much compensation we are seeking
Stay on top of any Florida statute of limitations deadlines to protect your right to sue
You do not have to fight this legal battle alone. Our legal team is here to guide you from the beginning of your case until the end.
Recoverable Damages in a Hollywood Personal Injury Case
Many people want to know up front if suing for damages is worth their time. They also want to know how much money they can get for their damages. Several factors will determine this answer, including how severe your injuries are, how long your recovery period will be, and how your personal life and career will be impacted going forward.
Generally, recoverable damages in an injury case fall into two categories: economic (financial) damages and non-economic (non-financial) damages.
Economic Damages
Economic damages are easier to assess because they come with a fixed dollar amount. Examples include:
Current and future medical expenses
Lost wages, tips, bonuses, and benefits
Reduced or lost earning ability if you cannot return to work in the same capacity
Property damage, including repair or replacement expenses
Other accident-related expenses
You can prove any of these expenses with receipts, invoices, pay stubs, tax documents, and other written documentation.
Non-Economic Damages
Because there is no fixed dollar amount on these losses, it can be challenging to put a value on them-but this does not mean they do not count. A personal injury lawyer can help assign values to your non-economic damages, so the liable party and their insurer know exactly what they are worth.
Examples of non-economic damages include:
Mental and physical pain and suffering
Emotional distress
Disability and disfigurement
Loss of companionship
Loss of life enjoyment
Wrongful Death Damages
You may also qualify under Florida law to pursue wrongful death damages. If your loved one suffered fatal injuries in Hollywood or South Florida and you are an eligible family member, we can help you pursue justice in civil court. Generally, if you win your wrongful death case, you can recover:
The cost of your loved one's final medical bills
Their funeral, burial, or cremation expenses
Other end-of-life expenses
You may also be able to recover the income they would have contributed to the family household and other compensation. Our Hollywood personal injury attorneys can walk you through the steps of building a wrongful death case.
All Florida Personal Injury Cases Must Meet the State's Deadline
Pursuing a personal injury case is a major decision, and we are here to make it as stress-free as possible for you. However, we have a limited time to do this, and time passes by quickly.
Florida generally requires injured parties to sue for damages within two years of the injury or accident, per Florida Statutes § 95.11(3)(a). If you are filing a wrongful death lawsuit, you have just two years from the decedent's death, according to Florida Statutes § 95.11(4)(b).
We advise anyone seeking civil action in Florida to get their case started as soon as possible. If you miss the state deadline, you likely will be barred from seeking compensation from the party that injured you-and this opportunity is lost forever.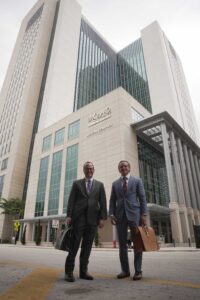 We Handle Many Kinds of Hollywood, FL Personal Injury Cases
The team at Phillips | Tadros, P.A., manages many different types of personal injury cases, including:
Product liability (defective products)
Dog bites or animal attacks
Nursing home abuse
Pedestrian accidents
Construction accidents
Whether a reckless driver hit you on Sheridan Street or you tripped and fell in a hotel or restaurant along the Hollywood Beach Boardwalk, you may be able to recover damages to help you move forward. Even if you do not see your personal injury situation in the list above, reach out to us. We are ready to learn more about your case and see if our team can help you seek justice.
We Must Prove the Other Party's Negligence Caused Your Injuries
There are four elements that prove the liable party's negligence. Using evidence and legal experience, our team will work to build a case that proves:
The defendant owed you a duty of care to keep you safe from harm
The defendant failed to meet that duty when they were negligent in their actions or inactions
This breach of duty harmed you by causing an accident in which you suffered injuries
You incurred damages that you should be compensated for, such as medical bills, lost wages, property damage, and pain and suffering
We Can Handle Your Entire Hollywood, FL Injury Case
Our Hollywood personal injury lawyers can collect evidence that supports your case, review key documents (such as police reports and medical records), interview witnesses, and negotiate with the insurer for a fair settlement on your behalf.
Resolve Your Legal Matters While You Heal From Your Accident
If we cannot settle your case favorably or fairly, we are ready to go to court to seek the compensation you deserve. We always prepare for this possibility, as we know that not all cases are resolved outside the courtroom.
By working with our team, you can focus on healing from your accident while we take care of your legal matters. As you take the time you need to get better, we can pursue compensation from the parties who harmed you.