Coral Springs
Motorcycle Accident Attorney
If you are a regular rider of motorcycles on Florida roads, you're likely aware of the significant number of accidents that occur in the state. According to the National Highway Traffic Safety Administration (NHTSA), Florida has the highest number of motorcycle fatalities of any state in the country. Knowing some important motorcycle statistics could be essential to staying safe on the road.
Motorcycle accidents can be devastating and the resulting injuries can be severe (if not fatal). You might, at some point, find you need a Coral Springs motorcycle accident lawyer. If you ride with friends, it can be vital to know where to turn when you need help. In Coral Springs, you can find a lawyer who also rides, who personally knows what it is like to be in an accident, at Phillips | Tadros, P.A.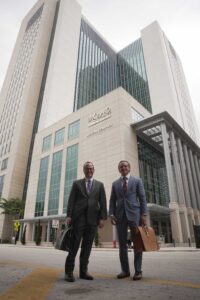 How Can a Motorcycle Accident Lawyer Help?
Most people consider hiring an attorney a personal decision. It's actually a business decision. You buy insurance because you want to protect your interests. If you hire an attorney, it should be to protect your interest in resolving a matter that's essential to your well-being.
It is true; you have insurance. You could file a claim and wait for your insurance company to call. However, your insurance company has attorneys and financial negotiators to delay and offer you the lowest settlement possible. They try to wait until you need their offer and have no choice but to take it. It isn't fair to you, but it saves them a lot of money.
This is one of the reasons that hiring a lawyer can simply be considered an intelligent business decision. An attorney has the legal knowledge and negotiating skills to take on the team from your insurance company. In addition, having an attorney negotiate for you means getting the entire compensation your policy or case will provide.
What Damages Can I Pursue?
Florida allows two types of damages: economic and non-economic. Economic damages cover defined amounts like hospital bills and lost wages. Non-economic damages cover undefined dollar amounts to compensate for pain and suffering. If you've been injured, you and your Coral Springs motorcycle accident lawyer can pursue:
Property damages
Medical Bills
Lost wages
Pain and suffering
Long-term therapy
Wrongful death
Who Is Liable for My Injuries?
The fault would have to be determined. Unlike other Florida motorists who participate in the PIP no-fault insurance program, Florida Statute § 627.736 does not include motorcycle operators. PIP insurance typically covers $10,000 in medical bills and lost wages without determining who was at fault in the accident.
Discovering who is liable is one area where your attorney can help you the most.
A Coral Springs Lawyer Can Investigate Your Motorcycle Accident
Investigating your accident can be one of the most critical aspects of your case. Your attorney can give you the most value by investigating what caused your motorcycle accident. When it comes to negotiating a settlement, a lawyer understands that knowledge is power. Your lawyer could:
Interview any eyewitnesses
Obtain accident and police reports
File discovery for additional data
Request nearby traffic camera footage
Organize medical records
Gather property damage records
Refer to medical providers, if needed
The lawyers from our firm have experience dealing with with police, doctors, and others who work with accident victims. As a result, your attorney can quickly access reports, interview witnesses, and discover who or what caused the accident. Knowing the details can help better negotiate a settlement with your insurance provider or the other driver.
Another way your attorney can help is simply by giving referrals. For example, if you have a knee injury, your attorney may have worked with a good knee specialist in the past and could refer you.
Are There Time Limits?
With any personal injury case, there are deadlines. In Florida, you have four years to file your personal injury case. However, if you want to give yourself the best opportunity for a positive resolution, it's smart to call an attorney as soon as you are able.
When an attorney represents your case, a great deal of data needs to be collected. Some of it is time-sensitive. For example, your attorney could want to interview witnesses as soon as possible. Memories fade over time. Filing specific reports from police or other agencies also can take time.
Does Florida Have a High Number of Motorcycle Accidents?
Yes, Florida has a high number of motorcycle accidents. There could be several reasons. First, the weather in Florida allows for year-round riding, whereas many states are limited to seasonal riding. The more extended riding season could be one factor that raises the numbers overall in Florida. According to the Florida Highway Safety and Motor Vehicles (FLSMV) Patrol Crash Dashboard, in 2021 there were 8,631 crashes and 588 fatalities in the state.
Many other factors impact motorcycle safety. Florida repealed its helmet law in 2020. Safety matters. In states that don't enforce universal helmet laws vs. those that do, the difference in the number of fatalities is staggering. The NHTSA also tells us that in 2019, in states without helmet laws, 57 percent of motorcyclists killed were not wearing helmets. In states with safety laws in place, only nine percent of motorcyclists killed were not wearing helmets.
Finding a Motorcycle Accident Lawyer in Coral Springs
When looking for a motorcycle accident lawyer in Coral Springs, look no further than Phillips | Tadros, P.A. You want a lawyer who knows what it feels like to be injured on a motorcycle.
Chris Tadros has been a motorcycle rider for over 34 years and has felt the pain of hitting the ground. He understands what you're going through firsthand. Call Phillips | Tadros, P.A., today at (954) 642-8885 to schedule your free consultation.